MADISON POWERS
Story by Sara Helm
Photography By Wren Morris & Madison Powers
|
Madison Powers is a multi-dimensional artist and Bealart alum who currently lives and studies in Halifax, Nova Scotia. We brought froward a series of questions regarding how growing up in London has shaped Madison, as well as exploring the themes in current projects and sources of inspiration, and the crucial influence of the Bealart experience.
Where did you grow up? What is your relationship to London? Where did you go to school?
I was born and raised in London for all nineteen years until I moved to Halifax for university. I went to H.B. Beal Secondary for all four years + a victory lap which was my "Special's" year and continued exploring ceramics and textiles
For the longest time I thought I would go into drawing/illustration as a profession up until Foundation year (at Bealart) where I was introduced to ceramics. It completely opened my eyes to a whole new way of seeing and responding – I remember touching clay for the first time and having an epiphany. Clay pushes the idea of drawing into a completely different realm and challenges you to create everything from scratch. Unlike my process before, I now make the canvas that my drawings exist on and with a medium that requires an abundance of time and nourishment. I've found that my relationship with ceramics is a chain reaction of intuitive sparks and decisions that multiply into different results, and it's delicious. There's unlimited possibilities for my ideas and I'm constantly craving to make and make and make.
How did growing up in London influence and form you as a creative person?
Growing up in London was hard until I started attending Beal. I was never really introduced to any creative atmospheres until the Bealart program was recommended to me at the end of elementary school. I remember touring the basement for the first time and instinctively knowing I had to attend – I could physically feel how badly I needed to be there. Everyone was dressed so expressively and vividly, it felt like a dream. The artwork was so different and honest, energy radiated from the walls and into my veins. I was fuelled and nourished by the accepting environment of other art nerds and weirdos that it formed the deepest of connections with others and an acceptance within myself that I hadn't received before. London's community of practising artists, emerging artists, educators, visiting artists, and young creators accepted my weirdness, and encouraged me to turn it into my secret ingredient.
"I don't know how to talk about something so fucking important, I wouldn't be here if it wasn't for that place"
What did attending Beal do for you? How did it encourage or hinder you? Do you have any thoughts on Beal as an institution and why is it important? Any crucial memories or moments that shifted your perspective on your work and your future?
Bealart was so transformative for me. I grew up in a somewhat quiet, conservative home (with very hard working + loving parents) but the older I became, the more I outgrew the mould my parents built for me. It's almost as if I had this mysterious bottle of energy that kept accumulating over the years and when I got to Bealart, the walls started to crack and the artistic energy that was festering for so long came to life. It made my relationship with my parents even stronger because I was no longer agitated in my own skin. I was no longer itching for an outlet to exercise my creative energy, or day-dreaming of a fictional place to be accepted into because Bealart became it.
Bealart isn't just a place – it is an active home and the most powerful form of education I have.
I went from being very monochromatic and reserved to exceptionally expressive, colourful, and open because of the acceptance and support Bealart lives and breathes.
Not many emerging artists receive the level of care and devotion that people attending Bealart receive. The qualities of myself and my practise were understood and respected in a way they never were previously.
It's way easier to believe in yourself when there are other people who support you and will take the time to lift you up. A crucial moment for me was during a conversation with Kim Davy (ceramic instructor) as we were talking about the treatment of clay and how you can shift the way you use it by shattering the expectations of the medium. From that moment own I began treating clay like paper. Bealart: learn to do everything.
"The community within Bealart is one of the greatest things I've been a part of. The energy that goes into caring for Bealart and it's students is so uncommon but it is easily the most important part. I was presented with so many opportunities to push myself beyond the expectations as a student and as a result I frequently left Bealart more exhausted than my body knew how to feel. Playing a substantial part in that community made it worth it."
– Brittany Moore-Shirley, Photo Tech & TA.
What are your favourite spaces and events that are unique to London?
Bealart friend's houses, Jonathon Bancroft-Snell Gallery, The Arts Project (now TAP), Satellite Project Space, Filthy Rebena Vintage (!!!), Rebel Remedy, The Covent Garden Market (lots of memories drawing in my sketchbook at the Tea Haus), Attic Books, London Music Club for slam poetry and open mic nights, Lavish for dancing, Home County Folk Fest + all summer festivals in Victoria Park, Winter Spectacular.
What were the factors that contributed to your decision to attend NSCAD and move to Halifax?
NSCAD: Interdisciplinary degree; continuing Bealart roots and conceptual way of making; 24 hr studio access; Ceramics studio & facilities on the harbour front; MFA student taught courses/unique courses that are not offered anywhere else; Close connection with professors; small lecture classes and non-competitive environment; uniquely structured old historic campuses downtown with exposed brick and creaky floors (also referred to as Hogwarts)
I've found that having 24/7 studio access gives me the independence and space I need to complete the workload (other universities I applied to didn't offer studio access past midnight) and I couldn't see myself functioning productively with crowds of people around constantly
Down to Earth people (both faculty & student body) it must be something in the air. Maritimers are so genuine and soft, it feels like people function more communally than selfishly here
Halifax (Mi'kma'ki): The environment/sea, size comparison to London

QUEER AS HELL, wholesome people

Slower pace of life

Heavily based off of instinct (the same powerful feeling I felt about Bealart) – Instincts based off of a series of events
How did you feel about leaving London?
I remember sitting in Andrew Lewis' artist talk when he came to visit Beal (April 2016) and his choice of words really resonated with me. He said, "You either leave here and come back or you get stuck," and I didn't want to continue feeling stuck.
After living in the same place for nineteen years, London was all I knew. It was no longer a place for me to continue growing because all of the growth that needed to happen there, did. I knew it was time, and something in Halifax was just screaming for me to come. I listened to my instinct and everything – clumsily – fell into place
How has living in Halifax shift the way you see London?
Halifax provided new growth for me and it's constructed a positive lens and environment that I'm able to take back with me, its fulfilling to move between these spaces.

Living in Halifax, I've been able to reflect on how London's art scene is strongly interconnected and accessible – whereas Halifax's art scene is very transparent and fragmented. It feels as if you need to know someone in order to be 'in'; word of mouth is not as common as it is in London and it can feel very isolating in comparison to London's community.
London offers many different spaces to creatives and artists of any age range (Museum London, Bealart, Artist Studio Tours, London Fuse, TAP, Bakers Dozen.) Londoners are active and engaged with what's happening in the community and every week there's always something niche/interesting taking place.

Moving to Halifax has allowed me to reflect on my conservative upbringing and acknowledge that colonialism is not often talked about in Ontario. When I arrived to Halifax (Mi'kma'ki), I was educated and informed about proper land acknowledgment and exposed to the devastating + heart wrenching truth behind Canada for the first time. I had an awakening to how colonization is an ongoing process with Native lands still occupied due to deceptive and broken treaties and violent histories that are often suppressed and/or forgotten.
Living in Halifax has not only shifted the way I see London, but also the way I see the world.

How would you describe your work in five words?
Expressive. Tactile. Layered. Interactive. Ritualistic .
What narratives are influencing your work right now?
I'm interested in creating new approaches to life drawing that is more collaborative based and beneficial for both the model and artist; allowing connection to influence the outcome of the artwork.
The timeline of the practise itself is very ugly and I'm driven to dissect the dark history of mistreatment towards female models and the horror that male artists got away with in the Renaissance era. I'm interested in acknowledging what has been swept under the rug for decades in the hopes of shattering prior male-defined relationships: objectification, sexualization, mistreatment, and lack of identity.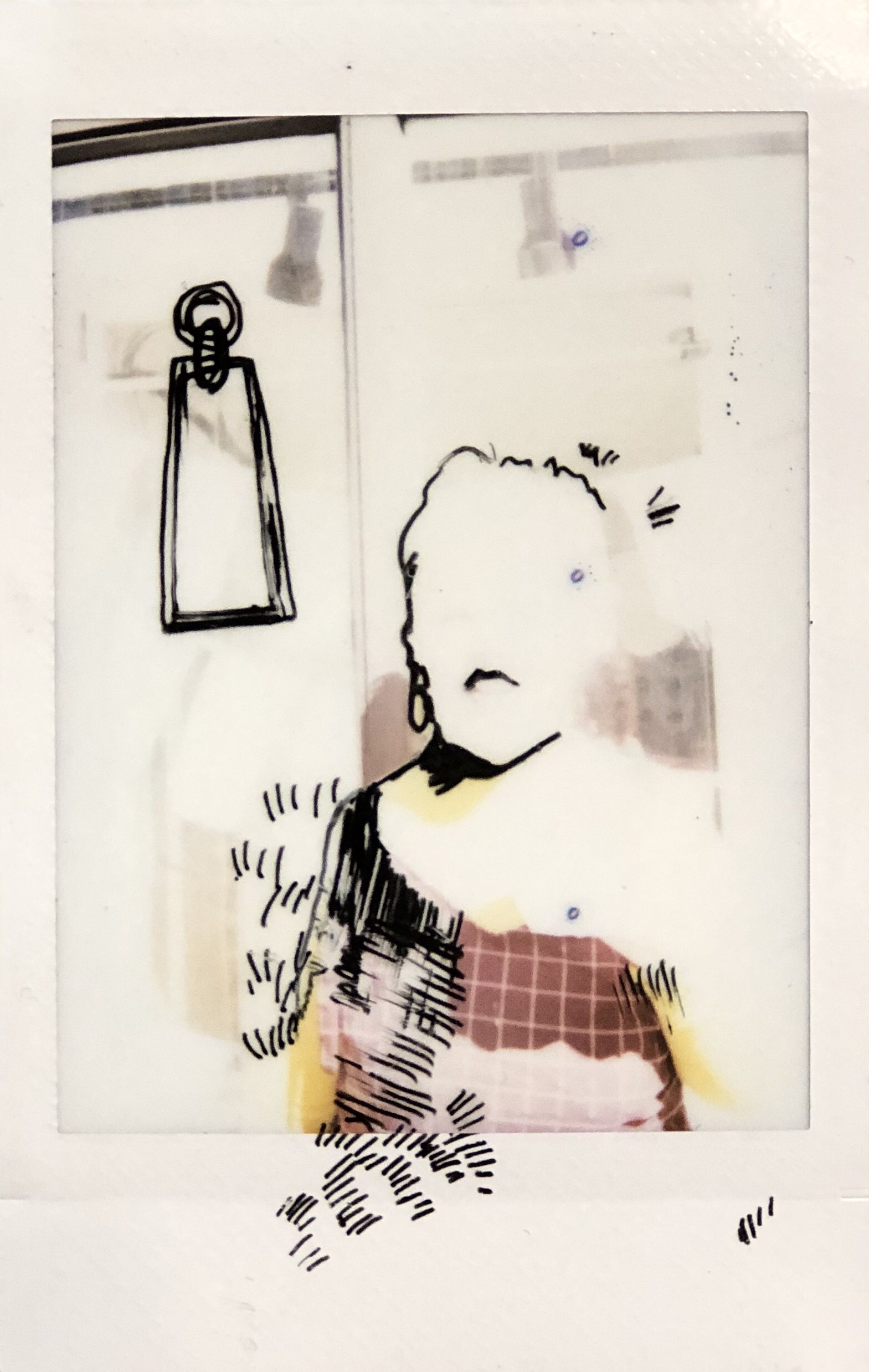 What are you working on right now in that vein?
On-going Project: "Personal Cups Sessions"
In January of this year I began a series of personal modelling sessions with folxs of all sizes, gender, shapes, modelling experience, and partnerships, and invited them to bring any sentimental, self identifying objects that made them feel comfortable and whole. The element of ceramics is brought into the last 30 minutes of each session. The cup represents the experience and conversation between myself and the model, piercing the stagnancy that often occurs between a sitter an an observer. Once the cup has been glazed and documented, it will become a way of payment to the model – yet will remain part of an ongoing body of work.
Where do you find inspiration? What is your creative process?
When I have an idea I have a need to write it out in my sketchbook – that way of brainstorming and starting the concept of what I'm working through, that's when I can imagine the piece coming to life; how I will interact with it, how it is going to exist, what's the resolution. Keeping all of this in a sketchbook means it's always there to be looked through. I used to feel like I was missing a lot of the ideas I was thinking about but keeping a physical log of everything that's in my head keeps me grounded.
Keeping visual deconstructions, brainstorming, questions, decisions and reasons why, artist studies, and life drawing sessions allows me the ability to reflect.
What would you tell yourself/what advice would you give yourself as a student starting at Beal?
Be involved as much as possible and go to artist talks, opening nights, shows, film screenings, volunteer for gallery watching, workshops, etc. There's something always going on and you can never have too much experience
Work in sketchbooks and allow yourself to be as messy as possible. Don't rip out pages – cover them! You can use photographs, fabrics, collages, paint, found materials, pages from books. Work in multiple sizes and paper types, (I have one in each room of the house) that way you will have a library full of different ideas and works.
When you visualize an idea, write it out. Ask yourself a list of questions that relate to the concept and brainstorm extensively by researching about materials, intent, connections, other artists and artworks, etc. What are you making and why? Does it have a resolution?
Go to every life drawing session even if you think your personal work is more important – because it's not! – life drawing, as Marucci says, "Is a series of corrections" and requires practise and participation
DO COLLABORATIONS! DO TRADES!
The most memorable work comes from making the weirdest shit so get loose and ask unlimited amounts of questions.
Speak up more, these are your people – you have a voice here. Be loud, be weird, be the rawest form of yourself you can be. Allow others to do the same.
WORK HARD and make work for yourself. Take care of your body and your mind. Remind yourself to drink water. Self care is just as important as the care you put into your work.
Take in every fucking moment.
What's one question you wish people asked you more?
How do humans relate to sacred geometry?